Amazon's Top 3 Traffic & Conversion Secrets Unveiled
This simple strategy will increase your organic and paid traffic up to 4x from high-purchase intent, high-converting keywords while providing the trust, social proof, and user-generated content that increases conversions up to 9x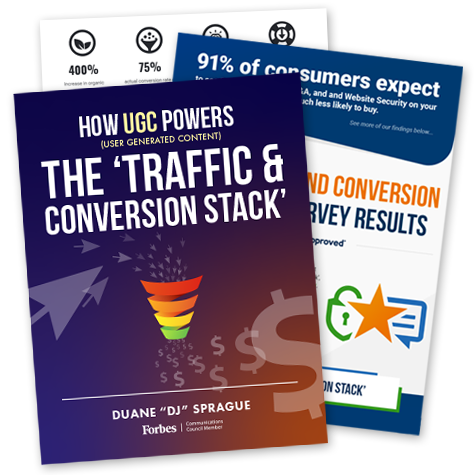 The full results of our national independent survey

, fresh off-the-press for summer/fall 2021.

An actual real-life case study

from a B2C website that has implemented the Traffic & Conversion Stack and experienced a 400% increase in organic traffic, and is now generating a 75% conversion rate on clients that utilize this technology.

Screenshots of

exactly

what the Traffic & Conversion Stack looks like

, and how it works to exponentially increase your traffic and conversions like nothing else does or possibly can.

A diagram and explanation of exactly how Amazon does it.
A copy of our free ebook

that unpacks the

mechanics and psychology of the Traffic & Conversion Stack

, with 52 pages of examples, and the most comprehensive analysis of this traffic and conversion phenomenon.
Book a FREE 30 min Tour of the World's First Traffic & Conversion Stack
Shopper Approved is the Top Rated
Review Platform on the Web

We have doubled our business in less than one year."
- Mike Simonsen, NorthernWoodsmen.com

We are setting new records consistently, and close to doubling our sales revenue."
-Justin Smith, OrionPowersports.com

We owe our success and Inc 500 Fastest-Growing Company award in large part to Shopper Approved."
-Nelson James, Signs.com

Our organic traffic has increased by four times."
- Ron Dawson, ePestSupply.com

We generally see an order approximately 75% of the time"
- Bill Rowell, RVUpgrades.com

It has, without a doubt, helped us to grow our business far beyond what we could have without it"
-BatteryShip Inc.